In Missouri, bartending positions can be found in various settings, including bars, restaurants, nightclubs, hotels, and event venues. This guide will look at how to become a bartender in Missouri.
Many bartenders work part-time or on a flexible schedule, making it an ideal career for those looking for additional income or a job that allows for work-life balance.
Bartending License Requirements for Missouri
The good news is there are few restrictions on the requirements for becoming a bartender in Missouri. Getting some alcohol compliance training like SMART will help your job prospects.
Does Missouri law require an Alcohol Server License?
No, there is no required bartender license or certificate to become a bartender in Missouri, though most employers will want staff to have some responsible server training or related courses such as SMART.
Minimum Age To Serve Alcoholic Beverages In Missouri
The minimum age to serve alcohol or sell alcohol here in Missouri is 18, and 21 to bartend or mix drinks, according to the APIS.
How Do I Get My Missouri Alcohol Server Certification?
In Missouri, alcohol sales are run by the Department of Public Safety Division of Alcohol and Tobacco Control (ATC). You can find server training information on their website, including SMART. Some of these training courses offer bulk purchases if you need to train multiple team members.
Missouri's SMART Online Server Training Program
The University of Missouri's Wellness Resource Center operates the SMART (State of Missouri Alcohol Responsibility Training) Online Server Training Program, a free, interactive alcohol training program for bartenders and other alcohol servers in Missouri. It is online training and is available online 24 hours a day.
Owners, managers, and employees of alcohol-serving establishments are strongly advised to take the alcohol server training program.
The program educates serving staff about their legal obligations, dealing with intoxicated patrons, and reducing liability risks. It also helps detect fake IDs and may lead to insurance discounts. Also, retail sales (convenience store, grocery store or liquor store) cover topics such as preventing alcohol theft and signs a customer may be buying alcohol for a minor.
The Missouri Department of Alcohol and Tobacco Control
First and foremost, Missouri bartenders must know about the state's liquor laws set by the Missouri Division of Alcohol and Tobacco Control. These laws govern who can sell alcohol and serve alcoholic beverages, among other things.
Bartenders are also responsible for monitoring the behaviour of their patrons, cutting off anyone who appears to be intoxicated or disorderly, and denying service to underage people. Bartenders must maintain a safe and responsible environment for their patrons, which means being vigilant and proactive about preventing over-serving.
What Is the Job Market Like for Bartenders in Missouri?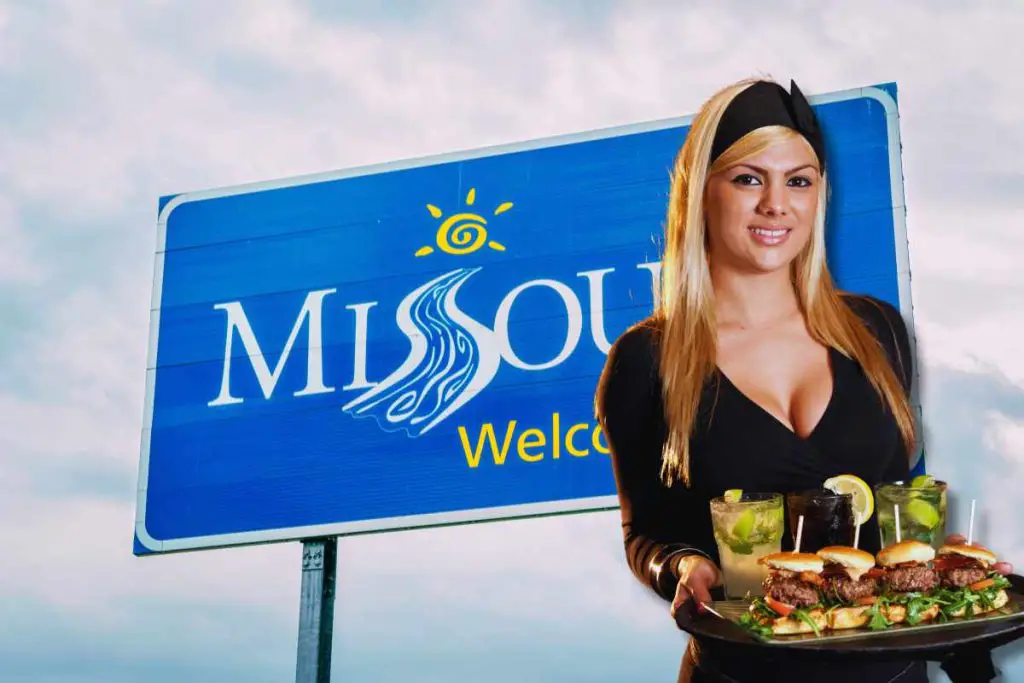 The job market for bartenders in Missouri is generally steady, with opportunities available in urban and rural areas throughout the state.
According to the U.S. Bureau of Labor Statistics, the employment of bartenders in Missouri is expected to grow by 6.4% from 2020 to 2030. This growth is slightly higher than the national average of 6.1%.
How Much Do Bartenders Make Hourly in Missouri?
According to websites like Indeed and Intuit, the average base salary for a bartender in Missouri is $14.81 or $28,000 per year as of 2023, according to Intuit Mint's data based on tax returns. This will depend on where you work, though.
What Cities Are Good Places for Bartending Work?
Here are some of the best cities in Missouri for bartenders:
St. Louis: With a thriving hospitality industry, St. Louis has a wide variety of bars and restaurants, which provide ample opportunities for bartenders. The city also hosts several major events throughout the year, providing additional opportunities for bartenders to earn money.
Kansas City: Bartenders can find employment in numerous bars and nightclubs, and the city's major sports teams, such as the Chiefs and Royals, also provide additional opportunities for bartenders.
Columbia: Although a smaller city, Columbia is home to the University of Missouri, which has a large student population. Bartenders can work in college bars and restaurants.
Branson: A popular tourist destination, Branson offers bartenders opportunities to work in bars and restaurants, particularly during the busy tourist season.
Jefferson City: As the capital of Missouri, Jefferson City provides opportunities for bartenders to work in government-related events and functions.
Conclusion
Overall, the job market for bartenders in Missouri offers opportunities for those with the right skills, experience, and training.
If you're interested in bartending in other American states, we've written an article about bartending requirements across America here.