Looking to break into the dynamic world of bartending in the city that never sleeps? Look no further than our guide to the best bartending schools in New York, offering comprehensive training and the knowledge needed to excel in this competitive industry.
In this comprehensive guide, we'll take you on a spirited journey through NYC's best bartending schools and cocktail classes, helping you uncover the perfect learning experience to unleash your inner mixologist. Cheers to the adventure ahead!
If you're thinking of moving to New York, we've written a guide to becoming a bartender in New York. The good news is there are few requirements, but
Bartending Schools Around New York City
Discover the most renowned bartending schools in the Big Apple, where expert instructors guide you through the essentials of mixology, preparing you for a dynamic career or a thrilling hobby.
Here is a list of some of the best-rated bartending schools in New York City.
New York Bartending School
Located in the heart of Manhattan, New York Bartending School boasts a state-of-the-art facility designed to provide an authentic bartending experience.
The school offers a comprehensive 40-hour Professional Bartending Course covering everything from cocktail recipes and mixology techniques to customer service and bar management.
New York Bartending School stands out with its fully-equipped mock bar, hands-on training approach, and a strong focus on real-world experience.
As of 2023, their Bartending / Mixology Certification Course costs $595.00
68 W 39th St, New York, NY 10018
Phone: 212-768-8460
Website: https://www.newyorkbartendingschool.com/
Columbia Bartending Agency and School of Mixology
Founded in 1970, the Columbia Bartending Agency and School of Mixology is situated on the prestigious Columbia University campus and is known for its high-quality training.
The school offers a 12-hour Bartending Course and an Advanced Mixology Course, which delves into the art of crafting signature cocktails and experimenting with flavours.
Notable features include access to an extensive recipe database, a flexible class schedule, and a network of alumni working in top bars and establishments.
Classes start at $250 for a "comprehensive" bartending class.
MLK Building, 490 Riverside Dr #519-521, New York, NY 10027
Phone: (201) 305-3671
Website: https://columbiabartending.com/
American Bartenders School
American Bartenders School, established in 1969, is one of the oldest and most respected bartending schools in New York City, conveniently located in Midtown Manhattan.
The school offers a 40-hour Mastering Mixology Course that covers over 200 cocktail recipes, mixology techniques, garnishing, and industry best practices.
With a 1:1 student-to-bar-station ratio, American Bartenders School ensures personalized attention, while its strong industry connections assist in job placement for graduates.
252 W 29th St 5th floor, New York, NY 10001
Phone: (917) 746-0411
Website: https://www.barschool.com/
ABC Bartending School New York
ABC Bartending Schools is a nationwide program and the largest privately owned bartending school system in North America. They have locations in various cities, including Miami, Dallas, LA, Hawaii, San Francisco, and Atlanta. Regardless of the location, the owner, Tony Sylvester, maintains an outstanding reputation and has been organizing bartending courses nationwide since the late 70s.
Furthermore, Stephanie Ringwall is considered one of the most popular, experienced, and knowledgeable bartending instructors in New York City. She has been teaching at ABC Bartending School for more than 15 years.
The most significant advantage of choosing ABC Bartending School is the affordable pricing. While other schools on the list of best bartending schools in NYC charge over $500, students at ABC can receive 40 hours of training for just $395. This unbeatable price offers excellent bartending training from seasoned NYC professionals.
43 W 46th St 6th floor, New York, NY 10036
Phone: (212) 594-4146
Website: https://www.abcbartending.com/bartending-school-nyc.php
Comparison of the Bartending Schools
Pricing: New York Bartending School and American Bartenders School offer similar pricing structures, while Columbia Bartending Agency and School of Mixology are more budget-friendly options.
Course Duration: New York Bartending School and American Bartenders School offer 40-hour courses, whereas Columbia Bartending Agency and School of Mixology's courses are shorter in duration.
Certification and Job Placement: All three schools provide certification upon completion and assistance in job placement, with each school having its unique network of bars and establishments.
Best Cocktail Classes in NYC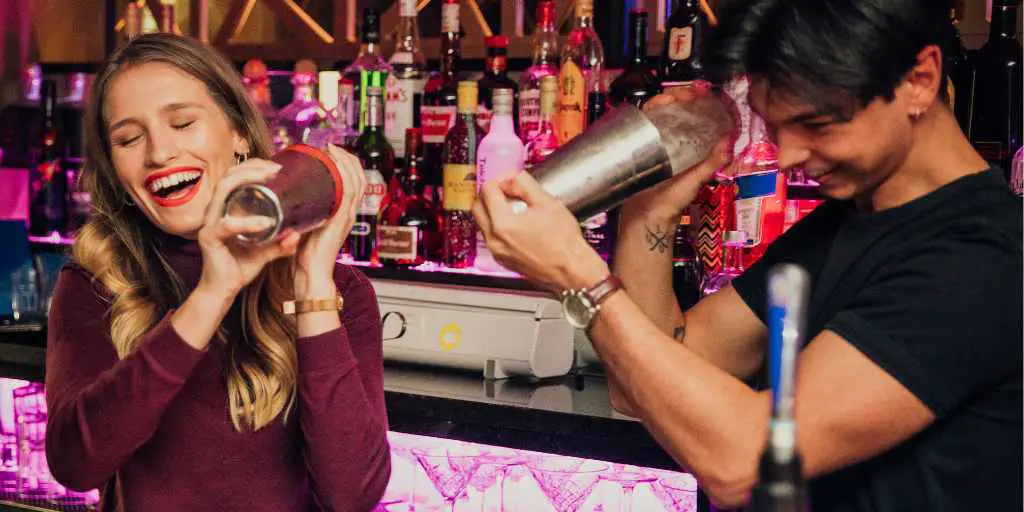 Embark on a flavorful adventure as you explore New York City's finest cocktail classes, where expert instructors unveil the secrets of crafting delectable drinks in a fun, interactive settings.
Here's a list of some of the best cocktail classes in NYC:
Apotheke
This swanky club in Chinatown has created its own Apotheke Academy for aspiring martini-makers. Upcoming classes, hosted at the bar, include Market Fresh, featuring instruction in the use of seasonal herbs, produce, and botanicals. The Spirits of Mexico class offers lessons in mezcal and tequila, while the Prohibition Era class teaches about the origin of classic cocktails. All three offerings recur on the Apotheke Academy calendar. Classes cost $150 per person.
9 Doyers St, New York, NY 10013
Phone: (212) 406-0400
Website: apothekenyc.com
Astor Center
Nestled above the iconic Astor Wines & Spirits in NoHo, Astor Center is a premier wine and spirits education destination.
Astor Center offers various classes, such as Classic Cocktail Techniques, Whiskey & Cheese Pairings, and hands-on workshops for creating seasonal drinks.
Its unique features are its modern tasting room, custom-designed kitchen, and special events like guest lectures by industry professionals.
As of 2023, cocktail and wine classes are priced at $89 per event.
23 E 4th St, New York, NY 10003
Phone: (212) 674-7501
Website: https://www.astorcenternyc.com/
BarBees Bartending
BarBees, "Your Mobile Mixology Coach," brings the cocktail-making experience straight to your home. Students choose two signature cocktails to learn, perfect for a girls' night in, a birthday bash, or a bachelorette party.
Website: barbeesbartending.com
Class Bento
Class Bento offers classes within 10 miles of NYC, perfect for beginners and experts. Learn to create three classic recipes with a unique twist, select ingredients, pair liquors, and experiment with unique flavours. Mocktail-making classes are also available.
Website: classbento.com
Coursehorse
Discover the fine art of cocktails with the midtown class wizards at Coursehorse. In addition to tie-ins with botanic gardens, look for upcoming opportunities like Classic and Creative Cocktails, Cocktails and Cheese, and Mixology: Learn to Create Tea-infused Cocktails. Locations vary.
Website: coursehorse.com
Liquid Lab NYC
As featured on the Katie Couric Show and CBS Morning News, Liquid Lab NYC cleverly capitalizes on the mixology craze through various events at their Williamsburg headquarters. Their popular Mixology 101 classes are held on Saturdays, during which students take a quick tour through several spirits and learn how to adapt them into cocktails. Guided through recipes and engaging in friendly competition at the end of the lesson, students receive their own shakers. Classes are held at the luxurious LeGrande Lounge at Time Hotel and cost $80 per person.
79 Madison Ave #17049, New York, NY 10016
Phone: (615) 668-5741
Website: liquidlabnyc.com
Patent Pending
Patent Pending offers fabulous cocktails in private cocktail classes, where guests learn techniques, styles, and flavour profiling to create delicious drinks. Participants walk away with three new cocktail recipes to impress friends. Classes are only offered on Mondays and Tuesdays, so start the week off with a bang.
49 W 27th St, New York, NY 10001
Phone: (862) 231-3723
Website: patentpendingnyc.com
Raines Law Room
Raines Law Room, with multiple locations across the city, including sister establishment Dear Irving, offers virtual and in-person classes. The Speakeasy Vibes class teaches about history in liquid form through pre-Prohibition and Prohibition-era drinks. The Drinking Like Ladies class celebrates cocktail recipes created by women. Multiple locations.
Website: raineslawroom.com
Seamore's Dumbo: Mixology with the Masters
Seamore's partners with Bucketlisters for a 14-week series of cocktail classes. Tickets include instructions for three different cocktails and an appetizer. Each class has a different theme, so choose the one that suits your taste.
66 Water St, Brooklyn, NY 11201
Phone: (718) 663-6550
Website: seamores.com
Tipsy Scoop
Tipsy Scoop offers a unique experience of making boozy sorbet cocktails and ice cream. Participants use a commercial-grade batch ice cream machine and take two pints of ice cream home in an insulated tote bag.
Next time a drink is in order, head over to a mixology class and learn from the best so you can whip up the perfect cocktail whenever you want.
Multiple locations
Website: tipsyscoop.com
Westlight: Low & No ABV Cocktail Class
At Westlight rooftop bar in Brooklyn, learn to masterfully mix three different classic mocktails with general manager Frankie Sanchez. Enjoy small plates such as Hamachi sashimi, spiced chicken empanadas, and crispy brussels sprouts.
111 N. 12th St., Brooklyn
Phone: 718.307.7100
Website: westlightnyc.com
CocuSocial
Offering low-cost cooking classes at the Staybridge Suites near Times Square, Cocusocial's Shake It Up mixology basics class costs $49 per guest. Ideal for the social butterfly (or barfly), each participant is paired with a classmate for a lesson in drink slinging. The two-hour class covers mixing two speciality cocktails, improvising behind the bar, and competing against classmates in a "miniature mixology competition."
Address: 69 Charlton St, New York, NY 10014
Website: cocusocial.com
Leisurely
Leisurely connects adventurous foodies with a "culinary luminary" working in New York. Each class allows students to sit in a bar or restaurant with a professional and learn the master's secrets, including the history of the ingredients and techniques. Then, participants get to taste the results. Among their many cooking classes are mixology courses in the mai tai, vermouth, mixology essentials, and the old-fashioned. Check the events page for the latest classes, starting at around $75 per person.
Website: leisurelyapp.co
Comparison of the Cocktail Classes
Pricing: Apotheke and Astor Center offer premium pricing, while Liquor Lab provides a more budget-friendly option.
Class Duration: Classes at all three venues typically last 2-3 hours, with slight variations depending on the course content.
Group Size and Booking Options: Liquor Lab and Astor Center cater to larger groups and offer private event bookings, while Coursehorse and CocuSocial focus on smaller, more intimate class sizes.
Tips for Choosing the Right Mixology Class or Bartending School
To find the perfect mixology class or bartending school, consider these essential tips to help you make an informed decision tailored to your goals and preferences.
Determine your goals and interests: Consider whether you want a fun, recreational experience or professional bartending certification.
Consider the time commitment and schedule: Ensure the class or course fits your schedule and the duration aligns with your learning preferences.
Assess the instructor's experience and teaching style: Look for instructors with industry experience and a teaching approach that resonates with your learning style.
Compare costs and amenities: Consider the pricing, location, and facilities of each option before deciding to ensure the best value for your investment.
New York Bartending School FAQ
How much does bartending school cost in NYC?
Schools usually charge by class but expect to pay at least $300 up to as much as $800 depending on the school and the class you take. Here are some sample prices we found on their websites.
NYC bartending Bartending / Mixology Certification Course $595.00
Columbia Bartending Agency, $250 for a comprehensive class
ABC Bartending, around $395 for a comprehensive class.
Are bartenders allowed to drink on the job in New York?
No, bartenders are generally not allowed to drink on the job in New York. The New York State Liquor Authority prohibits on-duty employees from consuming alcoholic beverages while working at a licensed establishment.
How long does it take to become a bartender in NY?
The time it takes to become a bartender in New York varies depending on the individual's experience and training. Bartending courses can range from a few hours to a 40-hour program, while on-the-job training may take several weeks to a few months. If you're a student or new to the industry, you might want to look for work as a barback or start at a smaller restaurant to build experience.
Do you need a liquor license to bartend in NYC?
Bartenders do not need a liquor license in NYC; however, the establishment they work for must have a valid one. New York bartenders must complete an Alcohol Training Awareness Program (ATAP) and obtain an ATAP certification.
What age can you bartend in NYC?
In New York City, individuals must be at least 18 years old to work as a bartender and serve alcohol in an on-premises establishment, according to APIS.
Conclusion
In conclusion, whether you're looking to master the craft of mixology for a rewarding career or to impress your friends at the next soirée, New York City has got you covered.
From top-notch bartending schools like New York Bartending School, Columbia Bartending Agency and School of Mixology, and American Bartenders School, to engaging cocktail classes, there's something for everyone.
So, grab your shaker, channel your inner mixologist, and embark on a spirited journey through the dazzling world of NYC's cocktail culture. The Big Apple awaits, and so do those perfectly crafted libations. Cheers!