In this article, we'll try and answer is bartending a good job for college students? With the monotony of a lazy summer and the pressure to pay for the upcoming semester, I had to face the reality that I needed a job. After weeks of searching for a job that would suit my needs, I decided to take on the role of a bartender. Despite my initial reluctance towards serving alcohol to patrons, I realized it was a great opportunity to gain experience in the service industry and make extra money too.
Working as a bartender, I have had my fair share of good and not-so-good experiences. In the beginning, the smell of greasy food, the noise of mediocre bands and the jokes of failing comedians were overwhelming. But, as time progressed, I appreciated social aspect of the job, and it has become one of my favourite jobs.
In this blog post, I want to share some of the best and worst realities of my experience as a bartender and help you decide if bartending is the right job for you.
If you're unsure if your school's state requires you to get a bartending certificate, we've written an article about the requirements for a bartending license for different American states here.
Getting Tips
The minimum wage for bartenders is often low, and many bartenders say a significant portion of their income comes from tips.
Pros:
Bartending can pay well, especially if you work at a popular venue or during busy hours.
Bartending pays better than most food service jobs and requires less work.
As a college student, the money from bartending can be a major plus.
Cons:
Tips can be unpredictable and may not always be adequate or given at all.
A tip-driven job can lead to instances where the work done is not worth the pay.
Slow businesses may not provide the same income as busy venues.
Carrying cash tips can be inconvenient in an increasingly digital world.
In summary, while bartending can provide a good income, it's important to be aware that tips can be unpredictable and that a slower business may not provide as good pay or much income as a busy one. Additionally, it's important to consider the inconvenience of carrying cash tips in a digital world.
Working Nights and Evenings
Many bartending gigs at restaurants or pubs start earlier in the day, but drinks are most often served later. At bars and music venues, doors don't open until the evening, meaning there's a good chance you'll be working nights and weekends. Remember, even when closing time rolls around, you might still be working at least an hour more cleaning up.
Pros:
Working nights is ideal for students busy with classes or internships during the day, as it allows them to balance work and school without compromising.
Cons:
Working nights can be challenging for social life as it may require giving up Friday night plans and dealing with FOMO (Fear Of Missing Out).
Working nights can also be challenging if you have morning classes the next day. It requires finding a balance between work and school schedules.
In summary, working hours can be ideal for college students, as it allows them to balance work and school.
But working late often earns you more money than working evenings and late nights can also lead to sleep loss. Also, balancing work, friends, and grades in college is hard. You may miss out on some social activities, but remember, while your friends are spending money, you'll earn it.
Bartending Is a Social Occupation
Bartending is a social occupation that requires engaging with customers in a social setting.
Pros:
Bartending allows you to connect with new people, learn about their lives and make memories and even friends.
It's an opportunity to build better social skills and increase your connections and network.
Cons:
Not every customer is friendly or pleasant; some may be hostile or violent.
Bartending can lead to unwanted flirting and advances, and it's important to set boundaries and protect your personal information.
It can be exhausting for introverts, as it requires constant social interaction.
In summary, bartending is a social occupation that allows you to connect with new people and build social skills and networks. Still, it also comes with the downsides of dealing with unpleasant customers, unwanted flirting and advances from drunk people, and it can be exhausting for introverts.
You're Always Around Alcohol
While there is certainly a growing number of bars specialising in non-alcoholic mocktails, the majority of service establishments serve up a plethora of alcoholic drinks, which, as a bartender, you will be around.
Pros:
As a bartender, you can access free alcohol and gain expertise in mixed drinks.
The job provides a firsthand understanding of the effects of alcohol consumption and can promote responsible drinking habits.
Cons:
Bartending may not be suitable for individuals with a history of alcohol abuse as easy access to liquor can be a temptation.
In short, bartending is probably not the best job if you think being surrounded by alcohol all day will be a problem.
As With All Jobs, It's a Learning Experience
College is a place for students to learn new things and have new experiences, and working a part time job in a bar can be one of those experiences.
Pros:
Bartending offers a variety of learning opportunities, such as state and federal laws, company policies, and mixed drinks.
The job requires multitasking skills and the ability to handle stress.
As a college student, bartending can teach valuable skills such as holding your ground, keeping customers safe, and having fun.
Cons: None.
How To Start Bartending in School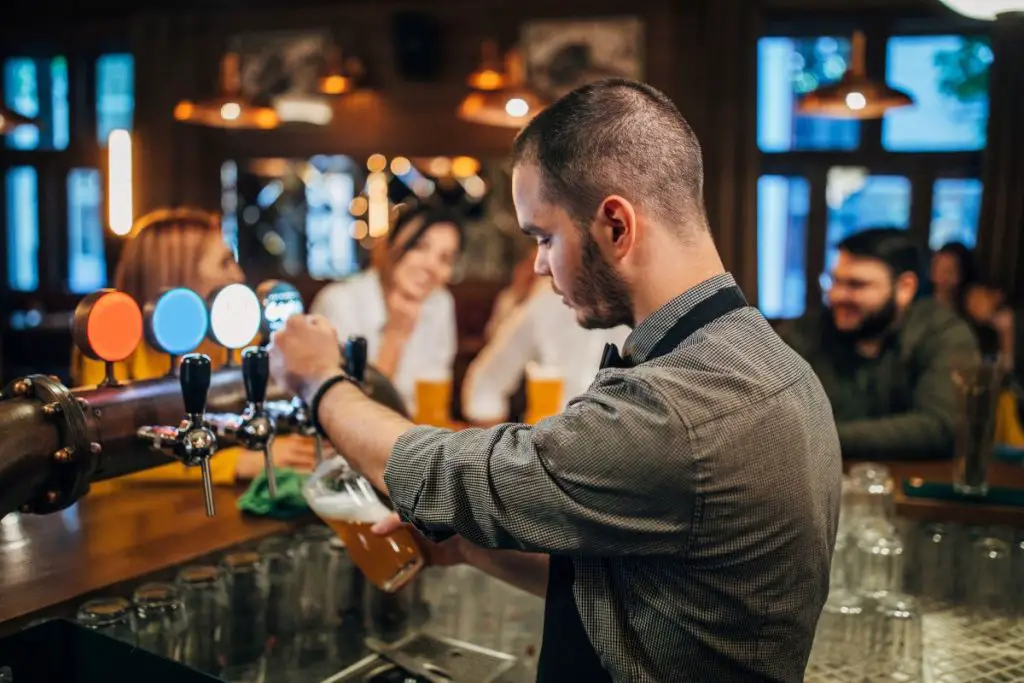 Many people turn to bartending schools as a shortcut, but it's important to understand that it's not the only way to break into the service industry and doesn't guarantee a job. Bars care about your experience, not your certificate. However, since you'll be serving alcohol, you will need to obtain whatever certificate or license is required by law in your State or Province.
To start your career in bartending, there are several ways to work up to a bartender position:
Start as a barback and work your way up, learning the ropes and gaining experience in the industry.
Start as a server and gain experience working with customers and handling busy shifts.
Get your foot in the door at a low-traffic establishment such as a local bowling alley or small bar, build your skills and gain experience.
Look for opportunities where your friendly personality and attractive appearance can be an asset to the establishment.
Generally going to a bartending school is not required, but perhaps look into starting as a barback or server and work your way up.
It is important to note that being attractive is not the only way to break into the industry, and being friendly and professional is always important.
Conclusion
In conclusion, yes, is bartending a good job for college students if it suits their lifestyle. Bartending can be a fun and social job for college students looking for a job offering a flexible schedule, access to free alcohol, and valuable learning experiences. However, it's important to consider the potential downsides, such as the temptation of easy access to alcohol for those with a history of alcohol abuse and the multitasking and high-stress nature of the bartending job itself.