Unleash your inner mixologist and stir up a successful career in the vibrant world of bartending! Our list of London's top bartending courses will guide you through a spirited journey of mastering the art of drinks and mixology.
With expert instructors, top locations, state-of-the-art facilities, and in-depth training, these prestigious courses are your ticket to becoming a sought-after professional in London's bustling cocktail scene. So, let's shake things up and discover the perfect bartending course to launch your dazzling career in the world of libations!
Discover the Best Bartending Courses London Has to Offer
Are you embarking on a journey to your cocktail knowledge and become a skilled bartender? Look no further! We've compiled a list of the top bartending courses in London that will teach you the ins and outs of mixology and help you build a successful career in the industry.
London Bar School: Professional Bartender Course
Duration: 4 weeks
Location: Central London, near Tower Bridge
Website: https://www.barschool.net/barschools/london
The London Bar School's Professional Bartender Course is designed for both beginners and experienced bartenders looking to enhance and advance their skills. This comprehensive course covers essential techniques, cocktail recipes, and industry knowledge, providing you with the expertise to excel in bartending. EBS London's exclusive venue ensures students get to spend far more hands-on hours behind the bar than at most other bartender schools in London. The EBS London location is within a five-minute walk of Bermondsey Underground Station in central London.
Course Highlights:
Learn over 150 cocktails
Flair bartending techniques
Wine, beer, and spirit knowledge
Customer service and upselling strategies
Job placement assistance
The Spirit Lab
Discover the Spirit Lab London Bartending School, an exclusive venue where a personalized learning experience meets top-notch training. With a close student-to-tutor ratio, you'll enjoy dedicated 1-2-1 attention from a Master Craftsman, ensuring you master the art of mixology. Their 35-hour fast-track bartender course, recognized in 70 countries globally, allows you to acquire essential bartending skills that will set you apart quickly.
Renowned for their international Bartender Course reputation and multiple awards, including Best UK Bar School in 2018 & 2019, they pride themselves on producing highly sought-after alumni. Quality is at the heart of our training, endorsed by prestigious bars and industry bodies like WSET and the UK Hospitality Guild, as well as partnerships with global alcohol brands. Our flexible payment plans make this exceptional education accessible to all aspiring bartenders.
Duration: 35-hour fast-track program
Location: 93 Marylebone High St., London
Website: https://www.spiritlablondon.com/
Shaker BarSchool: Comprehensive Bartending Course
Duration: 1 week
Location: Covent Garden, London
Website: https://www.shaker-uk.com/
Shaker BarSchool's Comprehensive Bartending Course is an intensive program covering training in all bartending aspects. This course offers a beginner a complete mixology education, from cocktail creation and presentation to essential bar tools and ingredients.
Course Highlights:
Mixology and classic cocktail training
Flair bartending fundamentals
In-depth spirit knowledge
Interactive workshops and tastings
Bar operations and management skills
Bartender Lifestyle Academy
At the state-of-the-art Bartender Lifestyle Academy, aspiring bartenders can become professionals in just three weeks. This course allows individuals to start a new career, acquire new skills, and connect with like-minded people.
Throughout the program, qualified trainers offer comprehensive classroom support to ensure students gain the knowledge and skills necessary, from free pouring to cocktail recipes to excel as fantastic bartenders.
Unique to this academy, students receive three internationally recognized qualifications upon completion: WSET Level 1, WFA Yellow, and the Bartender Lifestyle qualification.
Website: https://bartenderlifestyle.com/
Mixology School
The Mixology Group is an Approved Programme Provider for WSET Levels 1 & 2 in Spirits, offering classroom and online courses.
The WSET Level 1 course is ideal for beginners looking to gain an introduction to spirits, whether starting a career in the industry or pursuing a personal interest. This hands-on course introduces students to the main styles, advanced techniques, and types of spirits, engaging their senses of sight, smell, and taste to understand the key factors affecting flavours and aromas.
Participants will learn how to serve spirits and describe them using the accredited WSET Level 1 Systematic Approach to Tasting Spirits® (SAT). Upon successful completion, students receive a WSET certificate and lapel pin.
Website: https://www.mixologygroup.co.uk/wsetlevel1
How to Choose the Right Bartending Course for You
Now that you're familiar with the top bartending courses in London, it's time to choose the right one for you. Consider the following factors:
Course duration: Decide whether you prefer a shorter, more intensive course or a longer program with a more relaxed pace.
Location: Choose a course in a convenient location or one that offers a unique learning environment.
Accreditations: Look for courses that provide industry-recognized certifications to enhance your professional credibility.
Job placement: Opt for a course that offers job placement support to help you secure a bartending job after graduation.
Consider Online Training Too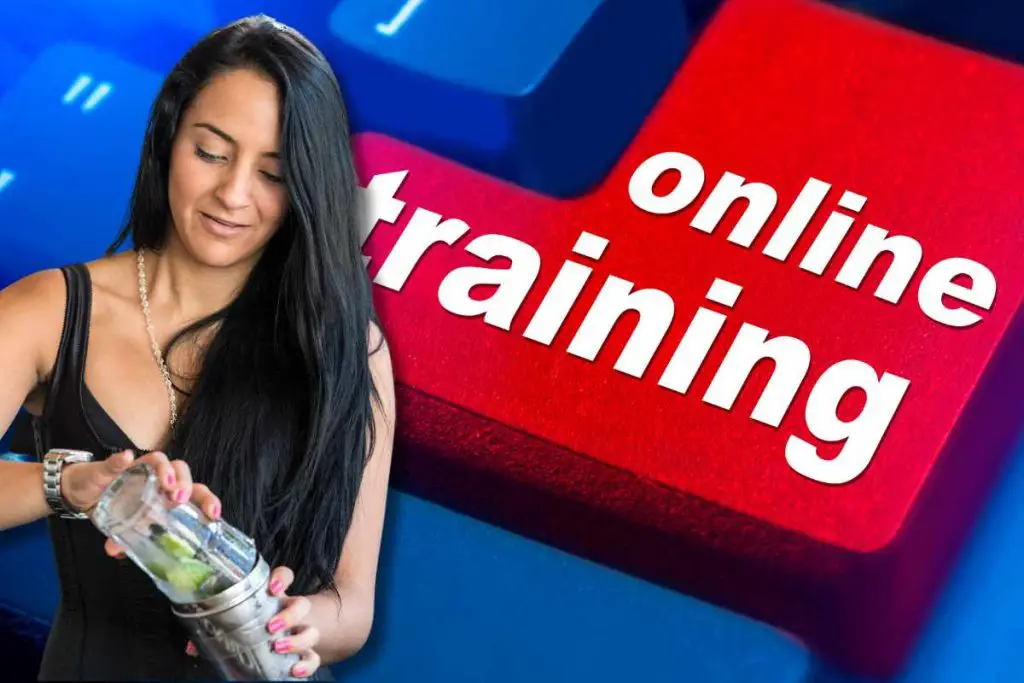 If you are thinking about becoming a bartender, online bartending courses can also be a great option for beginners for several reasons:
Flexibility
Learn at Your Own Pace: Online courses often allow you to learn at your own pace, meaning you can spend more time on challenging areas and breeze through topics you find easier.
Time Flexibility: You can choose when to study, making it easier to fit learning into your schedule.
Cost-Effective
Lower Costs: Online courses are often cheaper than in-person classes because they don't have the same overhead costs.
No Travel Expenses: You can learn from the comfort of your home, saving on gas, public transport, and parking.
Interactive Learning
Interactive Modules: Many online courses offer interactive quizzes and exercises that help reinforce what you've learned.
Video Demonstrations: Seeing techniques in action can be more beneficial than reading about them.
We recommend looking at courses such as those offered by Masterclass and A Bar Above's training for working bartenders. See this article for more information on classes available online.
Conclusion
In conclusion, selecting the perfect bartending course in London is crucial to launching a successful career in mixology. With a myriad of exceptional options, it's essential to consider factors such as course duration, location, accreditations, and job placement opportunities to find the best fit for your needs, whether you're a beginner pursuing a new career in hospitality or not. Invest in your future by enrolling in a high-quality bartending course at one of these bartender schools in London and start your journey towards becoming a master mixologist in London's thriving cocktail scene.
If you want to become a bartender in the UK, we've written an article about the requirements here.